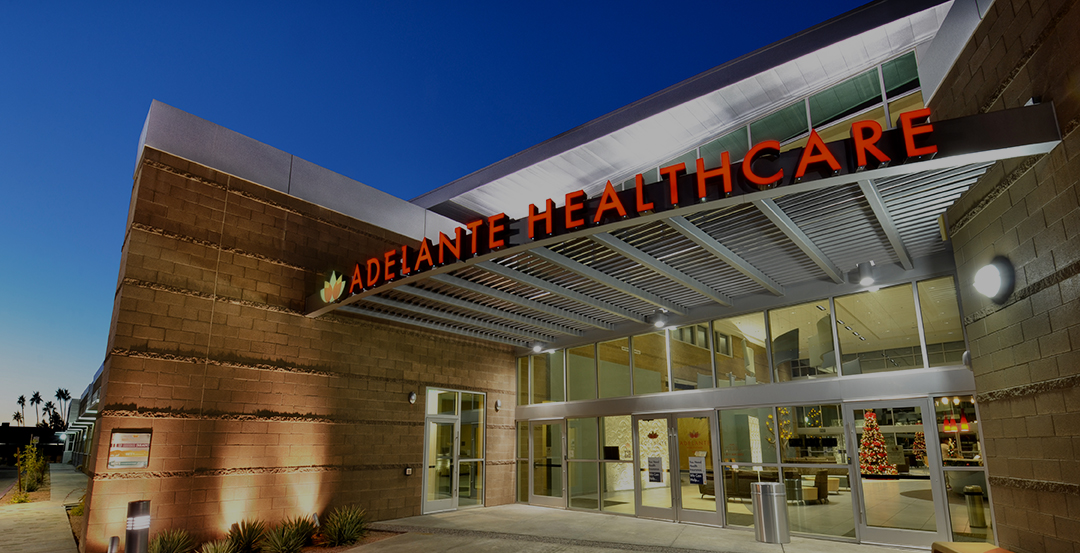 Green Ideas Achieves LEED Gold Certification for Adelante Healthcare Project
Phoenix, AZ – (October 6, 2014) – Green Ideas Sustainability Consultants played an instrumental role in the recent LEED for Commercial Interiors (LEED-CI) Gold level certification for the Adelante Healthcare facility in Peoria, Arizona. As the Sustainability Strategist and LEED Consultant for the project, Green Ideas employed strategies to ensure the healthiest indoor environment possible and conserve resources in a way that will save Adelante Healthcare money while protecting important natural resources.
The 10,473 SF project is a tenant improvement for Adelante Healthcare in an existing shell building that includes private medical exam rooms and open offices, plus nurse support and reception areas, as well as patient-centric spaces and general administration offices.
The team adhered to a strong Indoor Air Quality Management Plan throughout the construction process to keep contaminants out of the building and enhance the indoor air quality immediately upon occupancy. The project strategy also focused on the use of sustainable and low-emitting materials, including low VOC paints, adhesives, flooring, composite wood products and furniture systems to further this goal. The project team also established and implemented an integrated Green Janitorial Program to ensure an ongoing healthy indoor environment by reducing occupants' exposure to hazardous cleaning chemicals and particle contaminants.
Adelante Healthcare will save thousands of dollars over the useful life of the facility through the installation of low-flow plumbing fittings and fixtures. This strategy alone will provide a 36% reduction in the water budget and usage which is particularly important in the desert southwest region.
Green Ideas' President Charlie Popeck stated upon achieving certification, "We are honored to have worked with Adelante Healthcare on this project. Their belief in sustainable healthcare and the patient experience demonstrates their position as a forward-thinking, industry-leading organization. The patients of Adelante Healthcare will benefit from receiving their healthcare in a LEED certified facility for years to come."
About Green Ideas Sustainability Consultants
Established in 2002, Green Ideas is a full-service sustainability consulting firm offering high-performance building consulting, corporate sustainability planning, educational programs, product evaluation and marketing services, energy management, commissioning and world-class green building consulting services. The firm is designated as a LEED™ Proven Provider by the Green Business Certification Institute and is an industry leader specializing in LEED (Leadership in Energy and Environmental Design) Consulting including charrette facilitation and certification services. Its clients are building owners, architects, engineers, contractors, utilities and green product manufacturers as well as corporate entities wishing to establish business advantages through sustainable practices. With a vision as bold as the results they achieve, Green Ideas is dedicated to transforming the market by promoting sustainability through a "triple bottom line" approach to business operations.
Category: