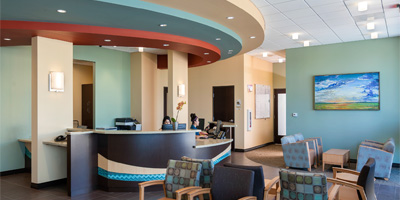 Adelante Healthcare Peoria
This 10,473 SF project is a tenant improvement for Adelante Healthcare in an existing shell building. The site itself satisfies many types of sustainable criteria by its proximity to services, transportation, and xeriscaped landscape design. The project program includes private medical exam rooms and open offices, plus nurse support and reception areas, as well as patient-centric spaces and general administration offices. The project strategy focused on the use of sustainable and low-emitting materials, including regional and recyclable materials. The construction team adhered to a strong Indoor Air Quality Management Plan throughout the construction process in order to enhance the indoor environmental quality of the completed facility. Installation of low flow fittings and fixtures provided a savings in the water budget and highlights an
important natural resource savings, particularly for the desert southwest region.
Sustainable Strategies
Parking near entrances is reserved for drivers of low-emitting, fuel efficient vehicles to encourage carpooling and reduce fuel consumption
Green cleaning program utilizing non-toxic products promotes high indoor air quality and decreases environmental impact
Interior materials, including paints, coatings, adhesives, sealants, carpeting, cabinets and furnishings have low or zero VOC off-gassing

Occupancy sensors were installed to minimize energy use

Enhanced commissioning, plus measurement and verification, will ensure that the building systems continue to operate at peak performance
Project Results
LEED for Commercial Interiors GOLD level achieved

95% of electronic equipment and appliances are ENERGY STAR rated

100% of annual energy load is provided by offsite renewable energy purchase

33% reduction of potable water for domestic use

67% of construction waste was diverted from the landfill