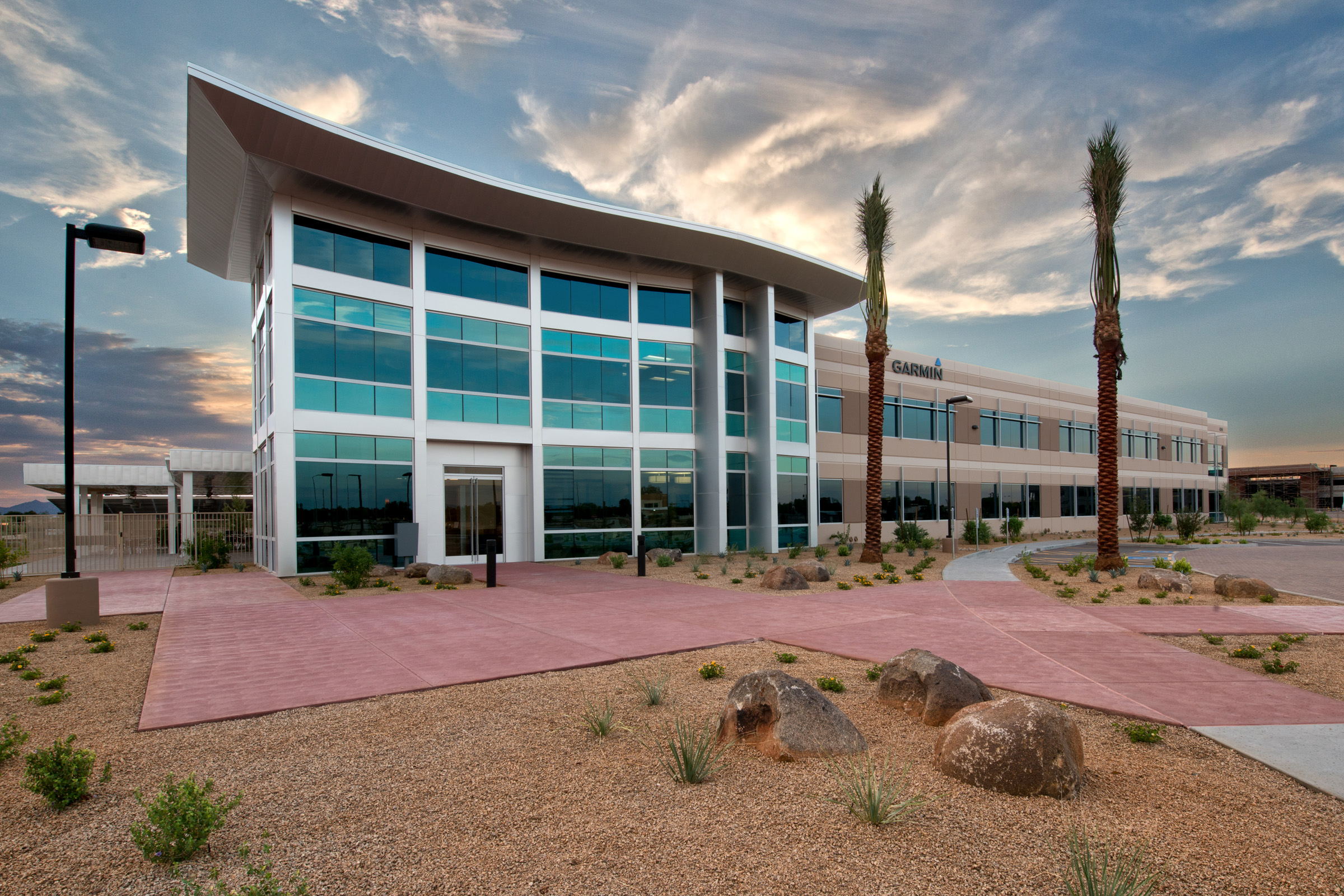 Garmin Corporate Campus Phase
Garmin Corporate Campus Phase I is a new, two-story, 60,000 SF office building for the Garmin corporation in Chandler, Arizona. The new building is the first of two projects at Chandler Corporate Center and will house professional staff working in product research and development. The site includes a number of environmentally beneficial features such as covered parking and extensive landscaping, along with outdoor amenities including a dining patio and basketball and volleyball courts. The project includes an on-site photovoltaic (PV) system doubling as parking canopies, which is large enough to make this project's energy use nearly net-zero! Garmin's commitment to sustainability is manifested in the project's multiple sustainable site features and in other less dramatic ways such as careful selection of efficient building envelope
components, efficient lighting, low-flow plumbing fixtures, and reflective roofing system.
Sustainable Strategies
607,474 kWh of renewable energy is generated through an on-site photovoltaic (PV) system

High-performance, reflective roofing system reduces the Urban Heat Island Effect

Bicycle racks & showers were installed to promote alternate transportation and reduce impacts from automobile use

Low VOC-emitting materials for the building's interior creates enhanced indoor air quality

Zero CFC-based refrigerants in HVAC base building systems reduce degradation of the ozone layer

Building materials with high-recycled content were sourced from local vendors
Project Results
LEED for New Construction GOLD level achieved

99% energy cost savings above ASHRAE 90.1-2007 energy standard

63% reduction of potable water use for irrigation

38% reduction of potable water for domestic use

79% of construction waste was diverted from the landfill
Project Team