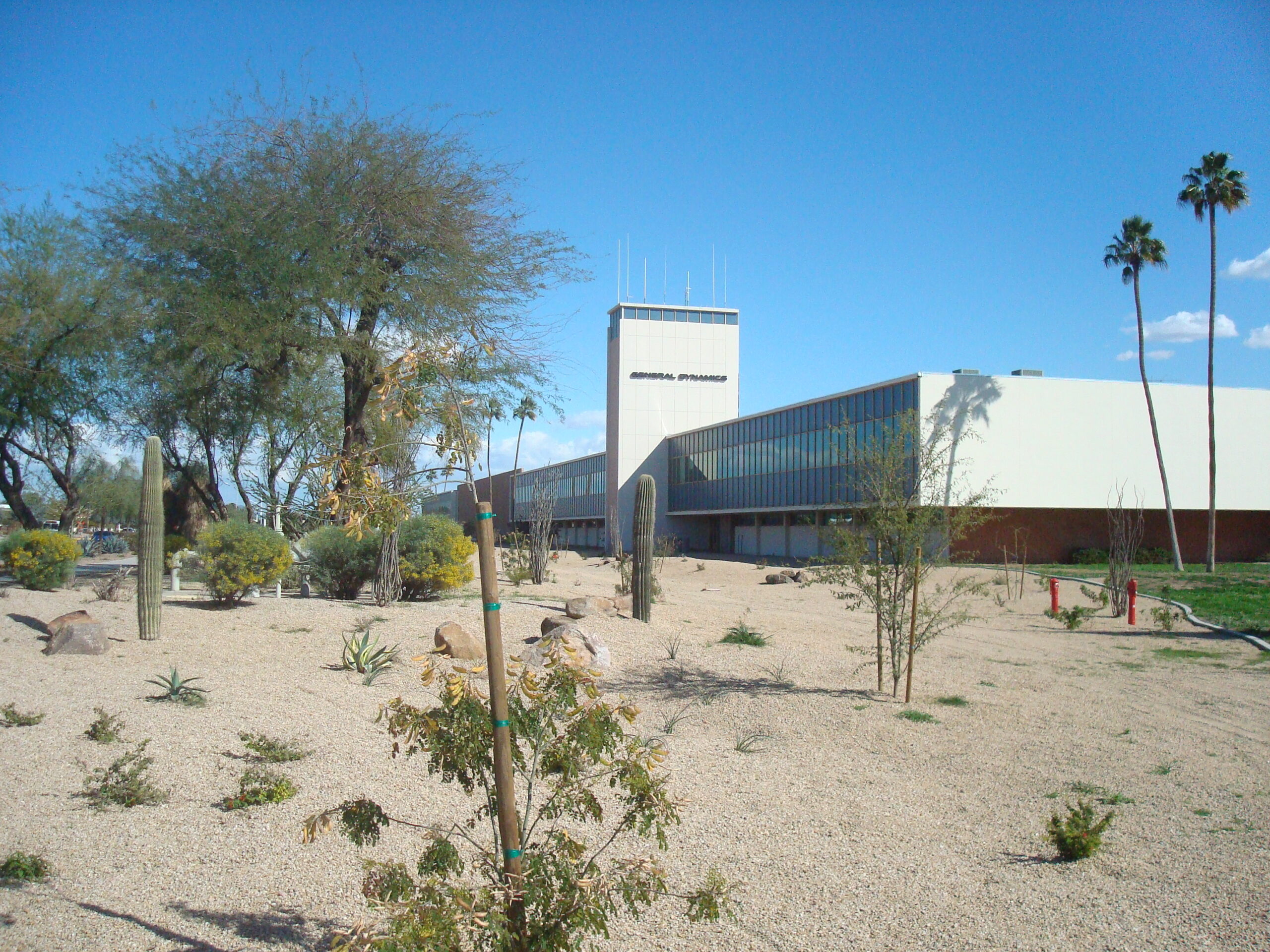 As Green Ideas approaches the end of our 20th anniversary year, we promised to share some of the projects that have made us one of the top building science consulting firms in the United States. This month we're sharing how Green Ideas helped develop the LEED for Existing Buildings: Operations & Maintenance Rating System (LEED-EB) for facility management by applying the LEED-EB Version 1 Pilot program to the General Dynamics Roosevelt Facility in Scottsdale, Arizona.
Project History: After our President Charlie Popeck completed a presentation about the current LEED Rating Systems available at an International Facility Management Association (IFMA) event, he was approached by Patrick Okamura, the Facility Director at General Dynamics in Scottsdale. Like Charlie, Patrick had a great interest in sustainability issues and asked how the newly introduced LEED-EB program could be applied to General Dynamics' facilities. At the time, Patrick believed that LEED could only be applied to new construction projects, and since most of the General Dynamics facilities were constructed back in 1957, he was unsure if LEED could be applied to his buildings. Charlie explained that the LEED-EB system was new, in fact, it was in the "pilot" phase, meaning that the U.S. Green Building Council had just introduced the system, and that it was designed to be used for facility management projects-NOT new construction.
LEED pilot programs are typically used by USGBC to introduce new rating systems to the Architecture-Engineering-Construction-Operations (AECO) industry to provide potential users with a framework to apply high-performance design, building, and operations strategies to their projects. USGBC then encourages feedback from the initial users to improve the newly formed programs for future applications. Being the progressive Facility Manager that Patrick is, he jumped at the chance to apply the LEED-EB pilot program to General Dynamics' facilities.
Being new to the LEED-EB program themselves, the Green Ideas team needed to get up to speed with the LEED-EB rating system, and worked alongside Patrick and the General Dynamics facility management staff to apply the system and then secure what would eventually be the first and largest industrial facility in the U.S. to secure LEED-EB certification.
After several months of working closely with the General Dynamics' facility management staff, Green Ideas helped to design and implement several sustainable operations and maintenance programs for the facility, such as converting existing turf to desert landscaping, using natural lighting along perimeter corridors, installing central air conditioning and high R-value roofing systems. Since the General Dynamics facility was not eligible for an EPA ENERGY STAR rating, Green Ideas worked with the USGBC to develop a new methodology to benchmark and compare industrial and other high energy use facilities to meet the requirements of the LEED Optimize Energy Performance credit requirements. This effort was so successful that it was adopted by the USGBC as an optional compliance approach in all future versions of the LEED-EB rating system.
The certification process allowed the General Dynamics facility team to expand their commitment to sustainable building management, and positive results have manifested in the corporate bottom line. A $210,000 investment in LEED-EB resulted in first-year savings of $322,000 in the form of water savings and reduced energy use. These achievements support the corporate environmental goals of General Dynamics as well as those of the City of Scottsdale. Realizing how application of sustainable building and operations strategies can contribute to positive bottom line financial results, General Dynamics again hired Green Ideas to implement LEED-EB to the company's adjacent Hayden facility, which produced similar financial benefits for the owner. Some of the high-performance strategies applied to the project include:
Sustainable Strategies
Existing turf was converted to desert landscaping
Cross-departmental Recycling Committee developed a successful waste diversion program
Comprehensive trip reduction program effectively reduced single occupancy commuting
Low-impact landscaping & site maintenance program saves water and maintenance costs
Well-managed equipment maintenance & monitoring program promotes efficient energy use
High-performance green janitorial program benefits all building occupants by providing better indoor environmental quality
Building Automation System was installed to monitor and control key building systems
Zero CFC-based refrigerants in HVAC base building systems improve indoor environmental quality
Sustainable Purchasing Program for electrical equipment, furniture, and high-efficiency lighting
Indoor Air Quality management program, Sustainable Design Education and High-Performance Cleaning programs were implemented for improved occupant health and awareness
Project Results
LEED for Existing Buildings CERTIFIED level achieved
22% energy cost savings when compared to the national average
53% reduction in potable water use for irrigation
50% of durable waste is diverted from landfills
75% recycled content used in office products
21% reduction in conventional commuting trips
Since Green Ideas finished the work for General Dynamics, we have completed several additional LEED for Existing Buildings: Operations & Maintenance projects for other clients, some of which include:
Intel Ocotillo Campus (Intel Corporation) Certified 3-30-11
Specialty Textile Services Laundry Facility (Specialty Textile Services) Certified 1-19-12
Masthead 4400 (U.S. Department of The Interior) Certified 5-5-14
Masthead 3900 (U.S. Forest Service) Certified 12-12-14
Masthead 4000 (U.S. Forest Service) Certified 12-23-14
Paradiso Medical Office Building (Mark IV Development) Certified 3-18-16
Green Ideas Building Science Consultants can help you and your organization to achieve your design, construction, and operational goals also. Contact us at 602-635-7925 to explore how application of building science strategies will positively impact your financial bottom line.