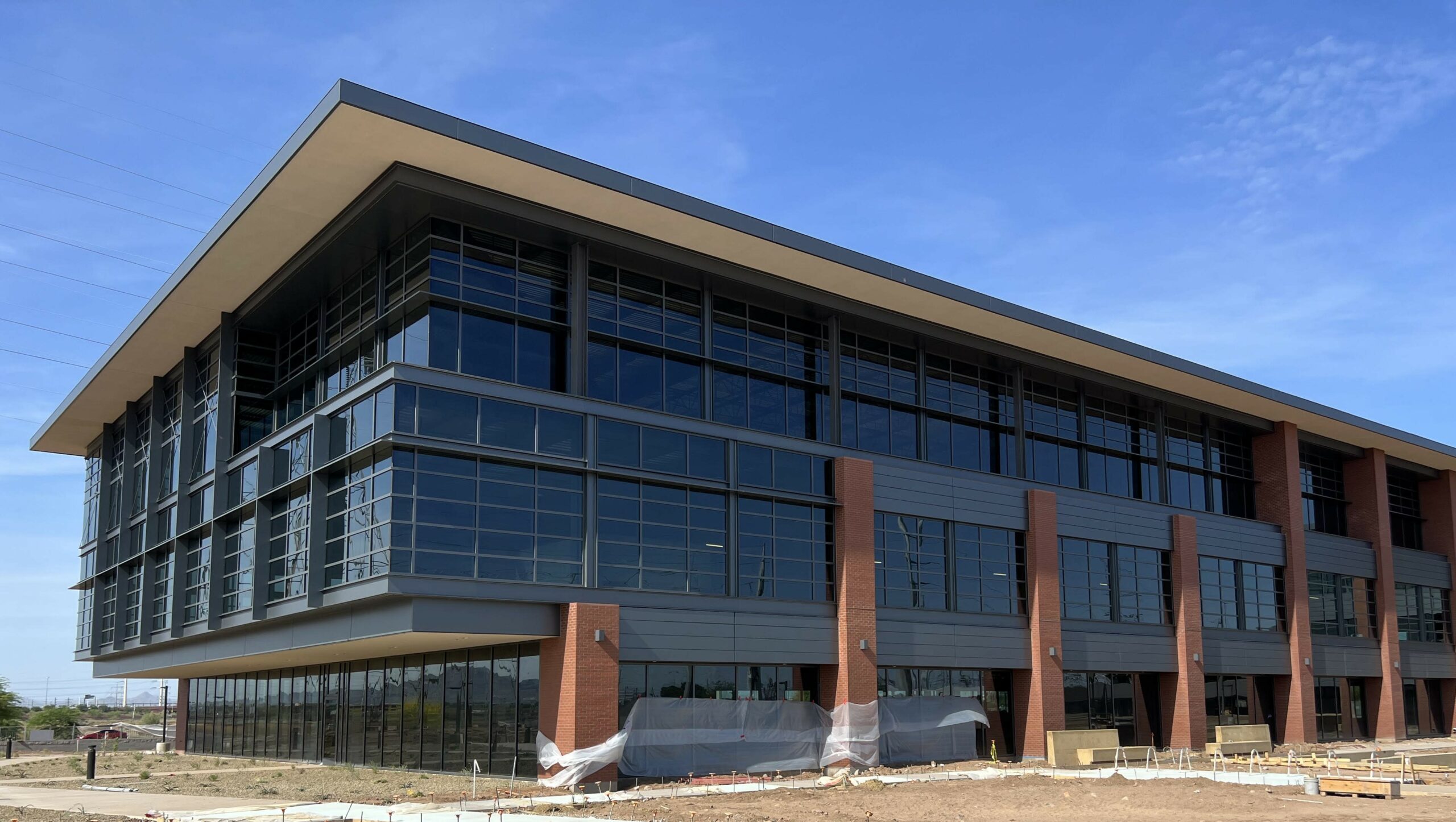 The unique and forward-thinking Novus Innovation Corridor development in Tempe, Arizona is taking another important step forward. Wentworth Property Company has nearly completed Parcel 4F at Novus (aka: Rio Yards). The project has been designed to create a dynamic atmosphere that attracts blue-chip and high-tech tenants seeking distinctive office space within the highly innovative, technology-focused setting of Novus. Upon completion, the 25-acre site will consist of 480,000 to 560,000 square feet of creative office space in addition to three parking structures and a central, pedestrian-focused amenity area.
Having been at the forefront of building science, green building, and LEED certifications for over 20 years, Green Ideas is proud of its integral role at the Novus Innovation Corridor. This development, true to its name, demonstrates leadership and innovation in many ways. In addition to aggressive green building and sustainability goals, Novus is a place where the private sector can interact with ASU's knowledge assets and create opportunities for students and faculty to collaborate with business.
The initial phase of the Parcel 4F development has been built on a speculative basis with subsequent phases to follow. Phase I is a 4-story, 157,000 square foot office building that includes associated access drives, surface and structured parking, landscape improvements, entry features, and hardscape with amenity areas. Phases 2 and 3 will consist of two additional buildings of approximately 150,000-200,000 square feet each with related improvements. The buildings are thoughtfully designed from a sustainability perspective to maximize the user experience on the site, capitalize on solar orientation, utilize shading techniques, and reflect a material palette appropriate to the Sonoran Desert.
The project was designed to encourage pedestrian connectivity and density both within the parcel and within the overall context of the Novus Innovation Corridor. The design intentionally routes auto circulation to the perimeter of the site to create a seamless connection between buildings and future phases of the greater creative office district. A central, outdoor amenity space and drop-off area will act as a cohesive centerpiece to serve all buildings and anchor the development with the flexibility to host a number of outdoor events. Shading devices will reduce the urban heat island effect and promote activity in the outdoor areas for an extended portion of the year and encourage use of proposed amenities including barbeque grills, bocce ball courts, a putting green, seating areas and lush desert landscaping.
The building orientation and native landscape design provides a meaningful connection to outdoor spaces for end users and visitors. Landscape and hardscape applications include trees along major pedestrian corridors, landscape buffers and hardscape transitions between areas of respite and seating adjacent to circulation routes, a variety of seating options and flexible spaces, and a central open space for a variety of functions and uses. The proposed landscaping also promotes low water-use plant material and appropriate trees for shade, wayfinding, and continuous aesthetics throughout the site. These high-performance building strategies will save thousands of gallons of water every year.
The Rio Yards project is targeting Leadership in Energy and Environmental Design (LEED) certification at the Silver level, which is required for all buildings located within Novus. Green Ideas Building Science Consultants plans to submit the final documentation required to achieve LEED certification this summer, which should enable the project to be awarded the coveted LEED certification by August 2023.