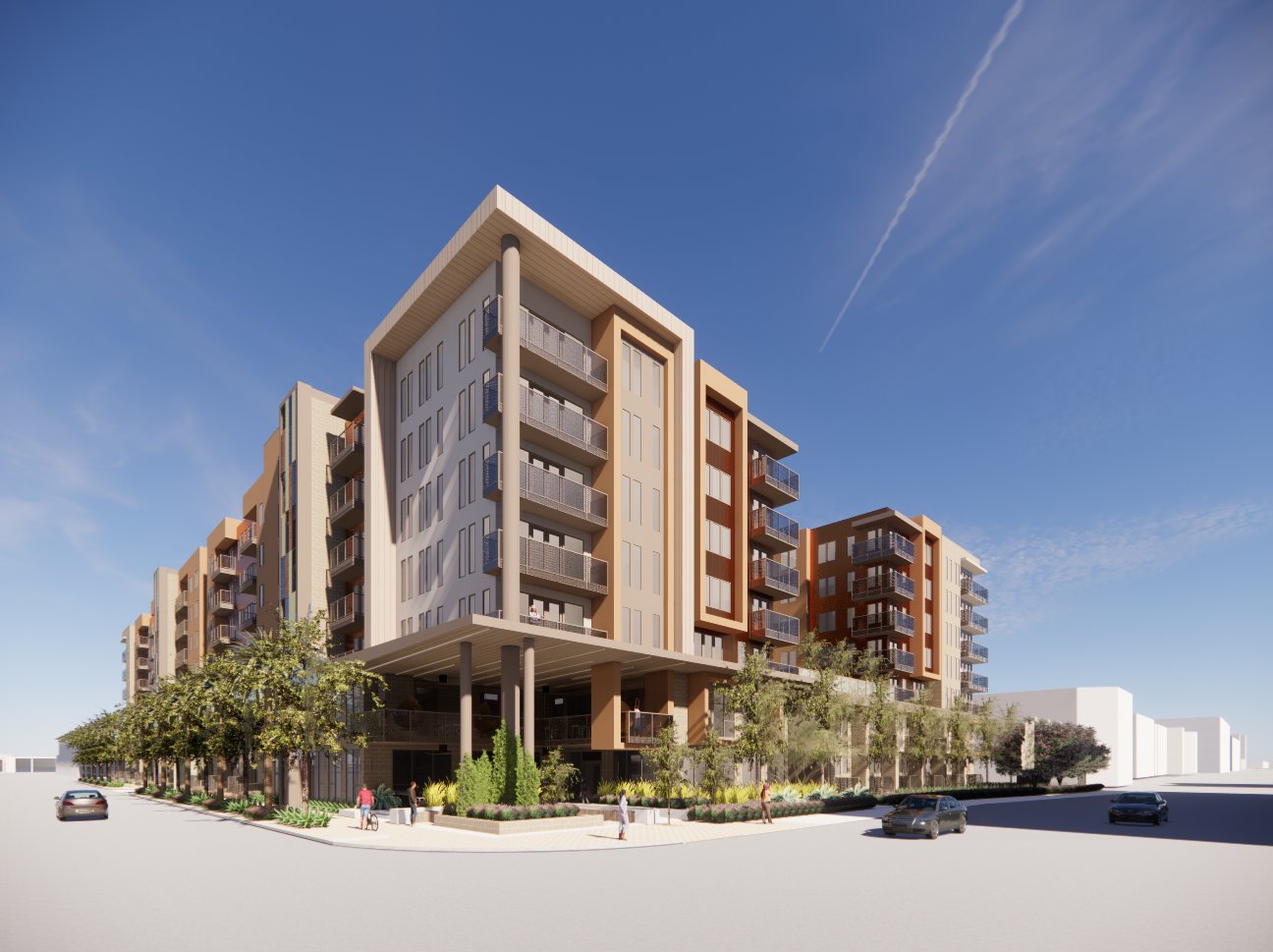 The third multifamily project to be LEED for New Construction (LEED-NC) certified within the Novus Innovation Corridor is on schedule and progressing as expected for completion in January 2026, according to Marc Anderson of MT Builders, the General Contractor for Parcel 3G. Charlie Popeck, President of Green Ideas Building Science Consultants, recently met with Mr. Anderson to observe the construction progress at the Parcel 3G project.
The Parcel 3G project is the second by Transwestern Development Company at The Novus Innovation Corridor, a LEED for Neighborhood Development (LEED-ND) certified master planned project at the ASU campus in Tempe, Arizona.
The seven-story 333-unit mid-rise apartment complex, located on 2.4 acres at the southeast corner of 6th Street and Rural Road, will include a resort-style pool and clubhouse, a coworking lounge area, state-of-the-art fitness center, coworking space, package lockers and bike storage. Each unit will be outfitted with a washer and dryer, stainless steel appliances, quartz countertops and hardwood-style flooring.
Green Ideas is also working to secure LEED-NC certification for another Transwestern project at Novus, the Parcel 3F (aka: VERO) development. Scheduled for completion in June 2024, this project includes 200 apartment units being built on .96 acres that will include many of the same popular amenities as the Parcel 3G building. This project will be the second multifamily project within the Novus to achieve LEED certification.
We previously LEED certified "The Piedmont", which was the first multifamily project at Novus to earn the required LEED certification in July of 2022. Developed by Aspen Heights Partners, The Piedmont is now leasing with great interest due to the "live, work and play" features provided at Novus. More information about The Piedmont and other Green Ideas' projects is available at Egreenideas.com.
"We are honored to be working with Transwestern Development Company on both of these Novus projects" said Green Ideas' President Charlie Popeck. "Although Parcel 3G is just coming out of the ground, there is high anticipation for the project to be completed in 2026, adding much needed housing to the Novus Innovation Corridor development. Parcel 3G will truly be another huge Novus accomplishment".
Stay tuned to Green Ideas Building Science Consultants at our LinkedIn page and website to learn more about these and future projects we're working on at Novus and around the globe.